Speak to a Relationship Banker today to set a foundation of financial education
Ensuring children have a positive and healthy relationship with money starts with early basic financial education. Most Americans believe that it is the job of parents to teach their children about money, but often those conversations don't occur or aren't as thorough as they need to be. A survey by CNBC + Acorns found that unfortunately more than 30% of parents never speak to their children about their household finances.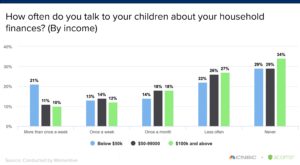 That lack of communication can create a knowledge gap when those children grow to young adults who have started to earn money and might not know the proper way to manage it.
"We see adults and teenagers coming in now, and they don't even know how to write a check," said Crystal Jackson, a Relationship Banker at Mabrey Bank's Bixby Main location. "They can't fill out a deposit slip. They think if they have a debit card, they can just swipe it whether they have the money or not. It's so important to teach from a young age that you can't over-spend the money you have, to learn how to use a check registry and how to use online banking technology."
That education can start simply, with parents including their children in basic conversations about bills at the dinner table or by letting a child tag along on a trip to the local bank. Debbie Booth, a Relationship Banker at Mabrey's Haskell branch, sees one father and daughter come in often to tag team deposits.
"He always brings his daughter in to help him prepare his deposits," said Booth. "She will list the checks, count them up and bring the deposit to us. He started bringing her when she was learning math, and it's something that has continued between them. Some parents, however, feel their child will listen better if their banker is the one taking the lead on those educational conversations."
For parents apprehensive on how or where to begin those conversations, coming in to speak to a Relationship Banker at a local Mabrey Bank branch would be a good place to start.
"At Mabrey, we keep it in the family," said Assistant Branch Manager Jaime Marquez at the South Tulsa location. "Our bankers love working with parents to show their kids how to save money, add money to their accounts, how to use the money you have. I've seen multiple generations of families come through the bank where a father will say that his dad helped him open a Mabrey Bank account when he was young, and now he is doing the same for his kids."
Mabrey Bank also takes an active role itself in getting in front of children and families for early financial education outside the walls of the branches. One example is how Booth and other Mabrey bankers in Haskell make an annual trip to Haskell Elementary to teach children about money. While they keep it simple, its a positive introduction for many young students on the topic of money.
In separate sessions with high school students, Booth and her co-workers go more in depth, explaining the difference between checking and savings accounts, detailed savings books and account registers, even what they needed to open an account. There have also been conversations about how to be responsible with ATM cards and how to prevent overdrafts.
While taking that first step in financial education could be as simple as having a conversation with a banker, parents can increase learning by helping their children younger than 18 open a Mabrey Bank "Future Savers of America" account. It's an account specifically designed to help teach children about the importance of saving and simple concepts of banking.
"The 'Future Savers' account is owned by the child, but it's controlled by the parent," said Jackson. "So, the parent is guiding the child, and everything that goes into the account is for the benefit of the child. We have given the child that experience of saving money and then withdrawing it to spend on that special something. It's the basics of banking, and I think it's a great starting point."
From those Future Savers accounts, Mabrey's bankers have seen children learn to be responsible with money and grow into working adults with established principles and practices.
"A 'Future Savers' is their someone's first concept of a bank account of their own, and we've seen several really take ownership of it," said Booth. "Some teens who have since opened a checking account, with their parent signing the Guarantee and Indemnity agreement, are still faithful to deposit part of their earnings into savings."
For more information about the "Future Savers" program or other savings accounts, click here or come into any of Mabrey Bank's 15 locations throughout Oklahoma to learn more about how you can help educate your children about money and basic finances.